Podoactiva and Younext, present one more year at the XXI AEMEF Congress of football doctors
29 May 2017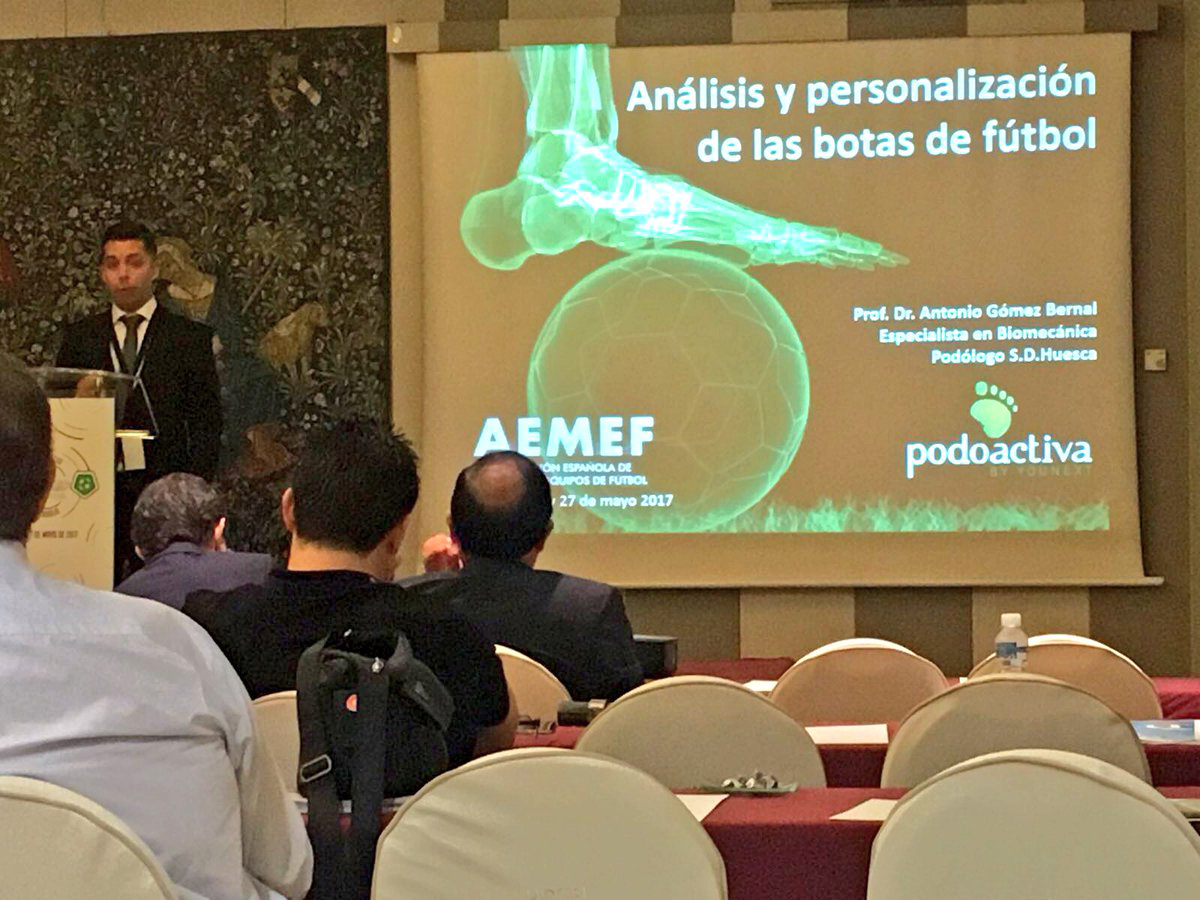 Our head of Clinical Research, Dr. Antonio Gómez, has participated this weekend in the XXI Congress of the Spanish Association of Soccer Team Doctors (AEMEF) in Valladolid.
Under the title "Analysis and customization of football boots through personalized lasts" has made known to all those attending the presentation the latest advances developed by the Podoactiva R&D department in this field.
As Dr. Antonio Gómez has commented, the football boots they are a very important element for the player, and can be a determining factor when it comes to performance and injuries that can occur in the lower limb.
The communication has addressed in a first part a bibliographic review of the most relevant studies about the design of soccer boots and their relationship with injuries, while the second part of the paper has focused on describing the methodology that is being used in elite clubs when it comes to personalizing and adapting both the forefoot and rearfoot lasts to footballers.
In turn, the team younext, subsidiary of biotechnology application of Podoactiva, was present with a stand informing all attendees about its products designed for the protection and recovery of injured areas footballers suffer most frequently. Some of the exhibited products were splints or restraints, protective masks y Shin pads, among others.
From Podoactiva it has been a pleasure to participate another year in this event of great interest for all health specialists from the world of football.
Related Posts
18/03/2021

Podoactiva has been chosen as one of the 35 benchmark European startups in the field of sports technology and applied innovation...

17/03/2021

We continue to walk alongside Real Valladolid after more than a decade at their side. Alberto Fernández, expansion director of Podoactiva, and...

11/03/2021

Our Podoactiva Vigo Clinic has opened its doors in the city of Pontevedra. It is our first own center that we inaugurated in...
Recommended Podoactiva services