Podoactiva, main sponsor of the San Lorenzo Pedestrian Race
August 04 2022
Podoactiva is the main sponsor of the XXII edition of the Great Pedestrian Race Festivities of San Lorenzo. A test that supposes the "starting gun" to the Huesca festivities and what will take place next 8 August in the Porches of Galicia.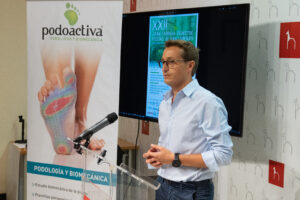 We are proud to be sponsors, it is a recognition of our patients"
"We are very proud to be the main sponsor, that the image of Podoactiva is in the center of Huesca on a holiday is a thank you to all our patients", has declared Javier alfaro, technical director of Podoactiva.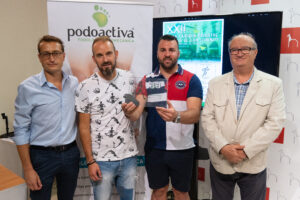 The test is organized by our friends at Club Deportivo A'ixena and recovers the spirit and commitment of the founder Antonio Gutiérrez since 1999. "It is a spectacular test, which combines a sports aspect and a Laurentian aspect", José María Romance acknowledged in news conference, Councilor for Sports Huesca City Council.
This twenty-second edition has the participation of twenty-six athletes, thirteen men and thirteen women. Surrounded by the public, they will give 45 and 30 laps, respectively, to the 200-meter urban layout located in the Porches de Galicia.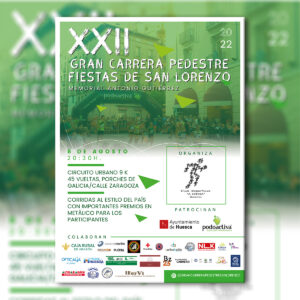 La family by Antonio Gutiérrez has wanted to thank a Podo activates his commitment to the race. They have highlighted the "important bond that the event has with the city of Huesca and its inhabitants".
It is a real pleasure for us to contribute our grain of sand in the Huesca sport and in a career with so much tradition and roots.
It is a pleasure to stomp with you!"
Related Posts
04/08/2022

Podoactiva is the main sponsor of the XXII edition of the Great Pedestrian Race Fiestas de San Lorenzo. A test that involves the "pistoletazo...

27/09/2022

Podoactiva will be part of the consortium to detect early diseases derived from aging through intelligence...

23/09/2022

Podoactiva opens a new clinic in Pollensa, the second at street level in the Balearic Islands. In this way, our presence in the...
Recommended Podoactiva services