Podoactiva opens a new clinic in Vila-real at the hands of A&A Physiotherapy and Podiatry
November 21 2017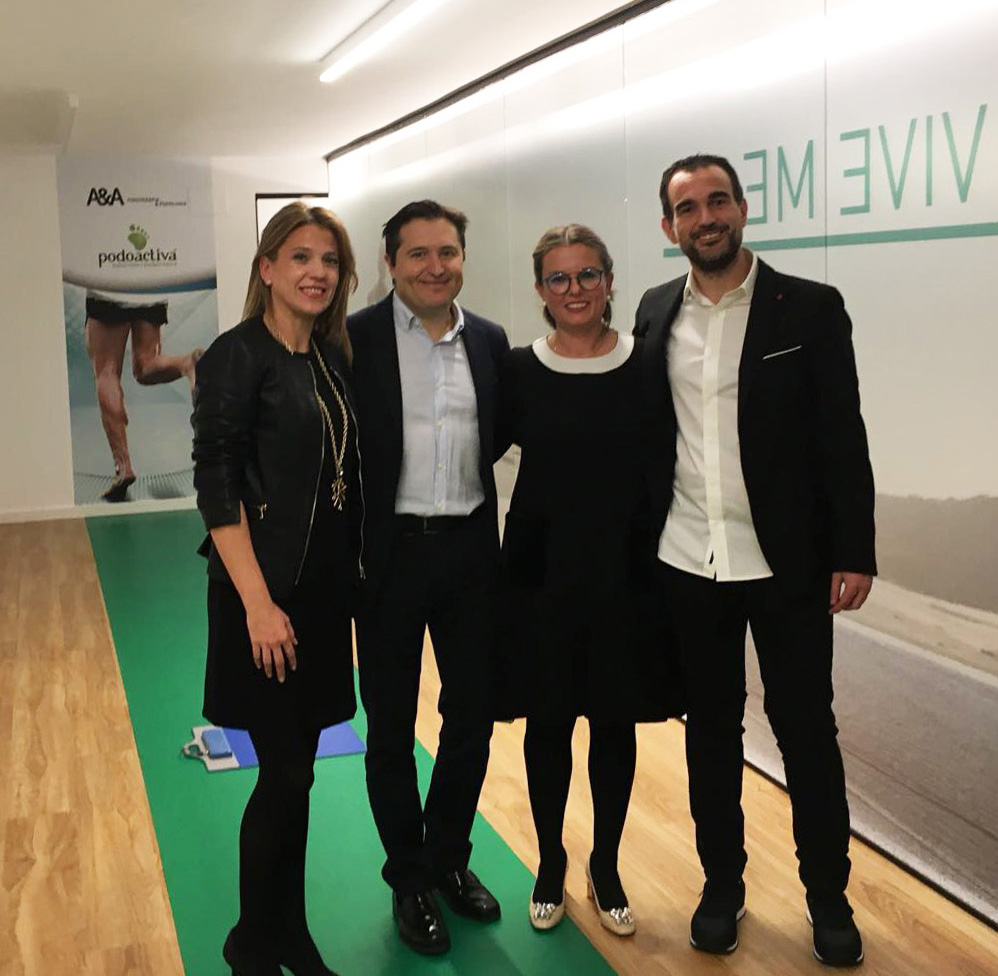 Last Saturday, November 18, was inaugurated the new A&A and Podoactiva clinic in Vila-real (Castellón). This clinic moves its location (to Calle Pere III, 25, Bajo) expanding its area by three to continue offering the best service to its patients.
This new clinic incorporates all the exclusive Podoactiva technology to offer the most innovative treatments in terms of podiatry and biomechanics, with specific treatments for athletes, children or the elderly. This is the largest podiatry and biomechanics facility in Vila-real which aims to make available to all patients all the experience accumulated in Podoactiva in the more than 300.000 patients treated nationwide in its entire network of clinics. Thanks to the application of artificial intelligence and big data, the experience accumulated throughout the network helps improve the quality of treatments in any of the clinics.
At the opening of this unit about 300 people attended among which were personalities of the society and sport of the region. On behalf of Podoactiva he moved Victor Alfaro, CEO of Podoactiva, who wanted to share that moment with Ana Carbó, director of the clinic, and took the opportunity to "thank Ana and Albert for letting us share their dream". For its part, Ana Carbó highlighted that "the facilities are being expanded to continue providing the best service to our patients. In addition, they are facilities in line with the technology we use, Podoactiva's technology, which is the best on the market today".
Currently, Podoactiva cares for its patients in more than 150 clinics across the country and has the trust of more than 2.500 top-level athletes working for teams of the stature of Real Madrid, Spanish Soccer Team, Atlético de Madrid, Sevilla CF, Betis, Spanish Athletics Federation, etc.
Foot care and performing biomechanical studies of the footprint are not treatments aimed exclusively at elite sports, but are tests necessary to know how to step and prevent ailments and possible muscle and joint injuries in the daily life of any person.
From Podoactiva, thank you again Ana and Albert.
More information about the clinic here!.
Related Posts
18/03/2021

Podoactiva has been chosen as one of the 35 benchmark European startups in the field of sports technology and applied innovation...

17/03/2021

We continue to walk alongside Real Valladolid after more than a decade at their side. Alberto Fernández, expansion director of Podoactiva, and...

11/03/2021

Our Podoactiva Vigo Clinic has opened its doors in the city of Pontevedra. It is our first own center that we inaugurated in...
Recommended Podoactiva services