PODOACTIVA FOUNDATION REPORT. Confinement halves the number of daily steps taken by Spaniards
27 May 2020
El confinement of these months has had, as expected, a strong Impact on the physical activity of the Spanish population. The restrictions on mobility imposed by the pandemic have caused, among other consequences, a notable decrease in the number of daily steps taken by Spaniards, which in April was 49% Respect to the same month of previously year.
In April 2020 we have taken an average of 3.829 steps each day, as opposed to the 7.409 recorded in April 2019.
In this report, prepared by Podoactiva Foundation, data collected in 11 Spanish provinces to men and women between the ages of 23 and 65.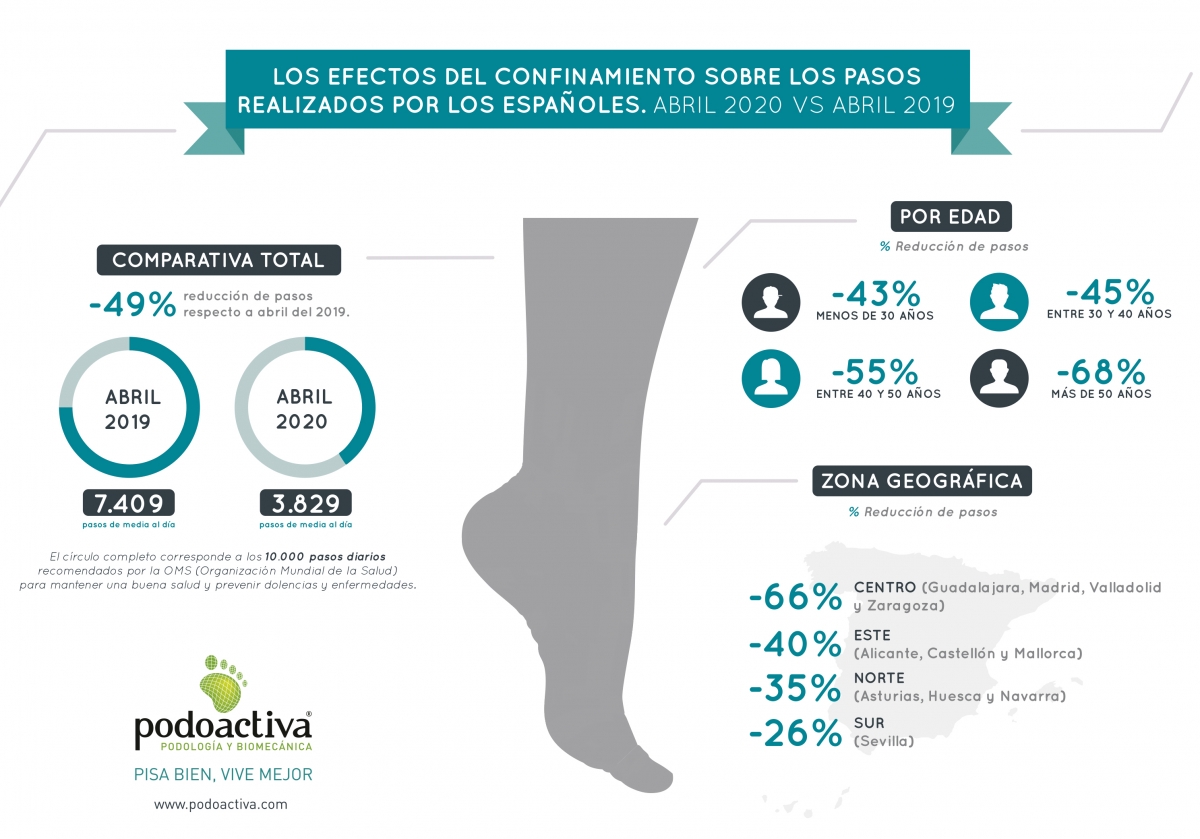 The figure recorded last April is far from the scale of 10.000 minimum steps per day recommended by the World Health Organization (WHO) to comply with the recommended physical activity.
The analysis also reveals that the reduction is more pronounced the older the age.Therefore, people over the age of 50 are the ones who have decreased their daily volume of steps the most, with a decline last month from 68% compared to April 2019; followed by those who have between 40 and 50 years, with 55%; those who are located 30 and 40 years between 45% and the citizens of under 30 years 43%.
The data, taken at 11 provinces (Asturias, Huesca, Navarra, Guadalajara, Madrid, Valladolid, Zaragoza, Alicante, Mallorca, Castellón and Seville), also show clear differences between the geographical areas analyzed:
Downtown (Guadalajara, Madrid, Valladolid and Zaragoza): 66% step reduction
This (Alicante, Castellón and Mallorca): Reduction of 40%
North (Asturias, Huesca and Navarra): Reduction of 35%
Public chat (Seville): Reduction of 26%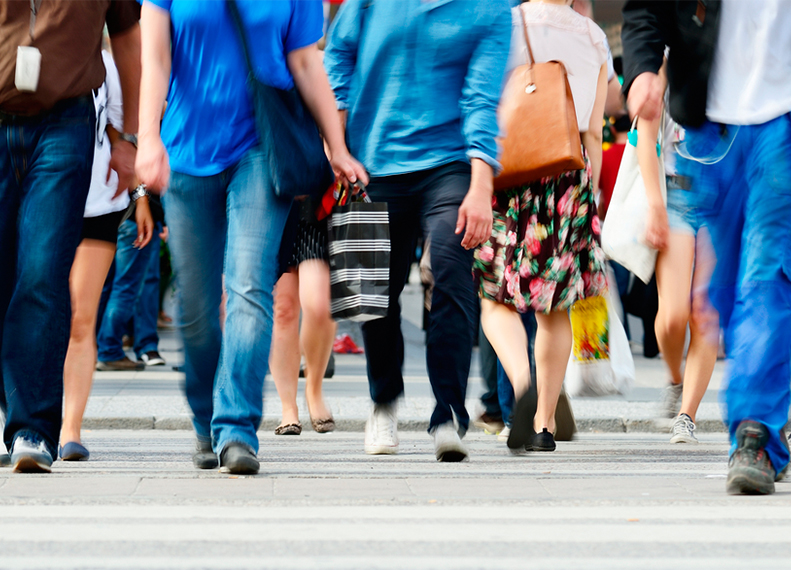 TIPS FOR GOOD FOOT CARE
We must bear in mind that this mobility limitation, maintained for several weeks, has been a significant reduction in the activity of our feet.
Feet are used to taking an average of 3 million steps a year.
Podoactiva professionals give us a series of tips for alleviate the effect of this reduction in activity and prevent and care for the good health of our feet:
-Perform a daily foot wash, and a careful drying, with the aim of avoiding the appearances of mushrooms.
-Keep the foot skin hydration, every night and with specific creams, thus avoiding the appearance of cracks o flaking and minimizing the chances of infection by microorganisms.
-To walk barefoot at home at least once a day. It is a simple habit that helps Relieve stress, stimulate the foot muscles and Improve blood circulation.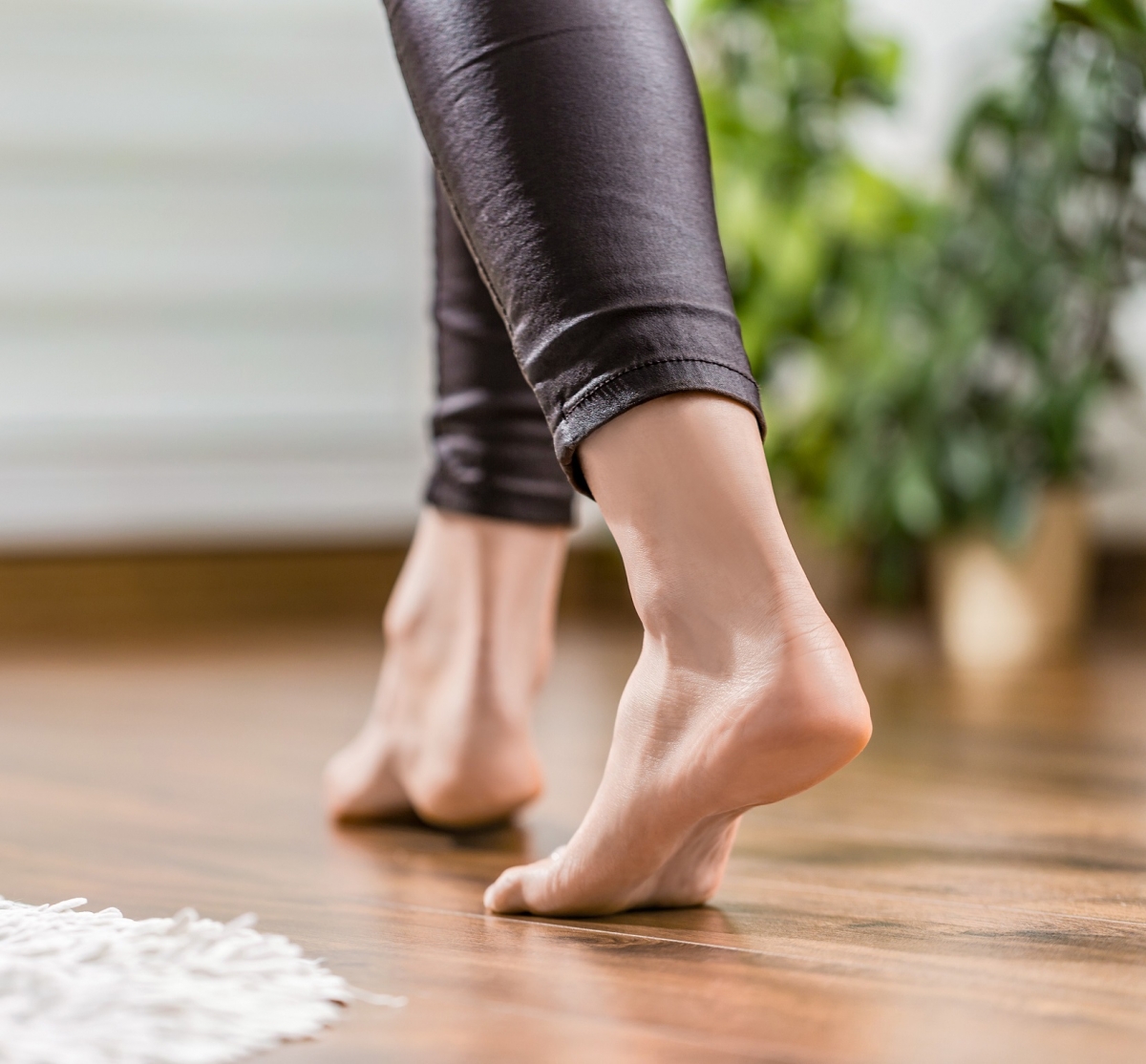 -The footwear also plays a very important role in good foot health: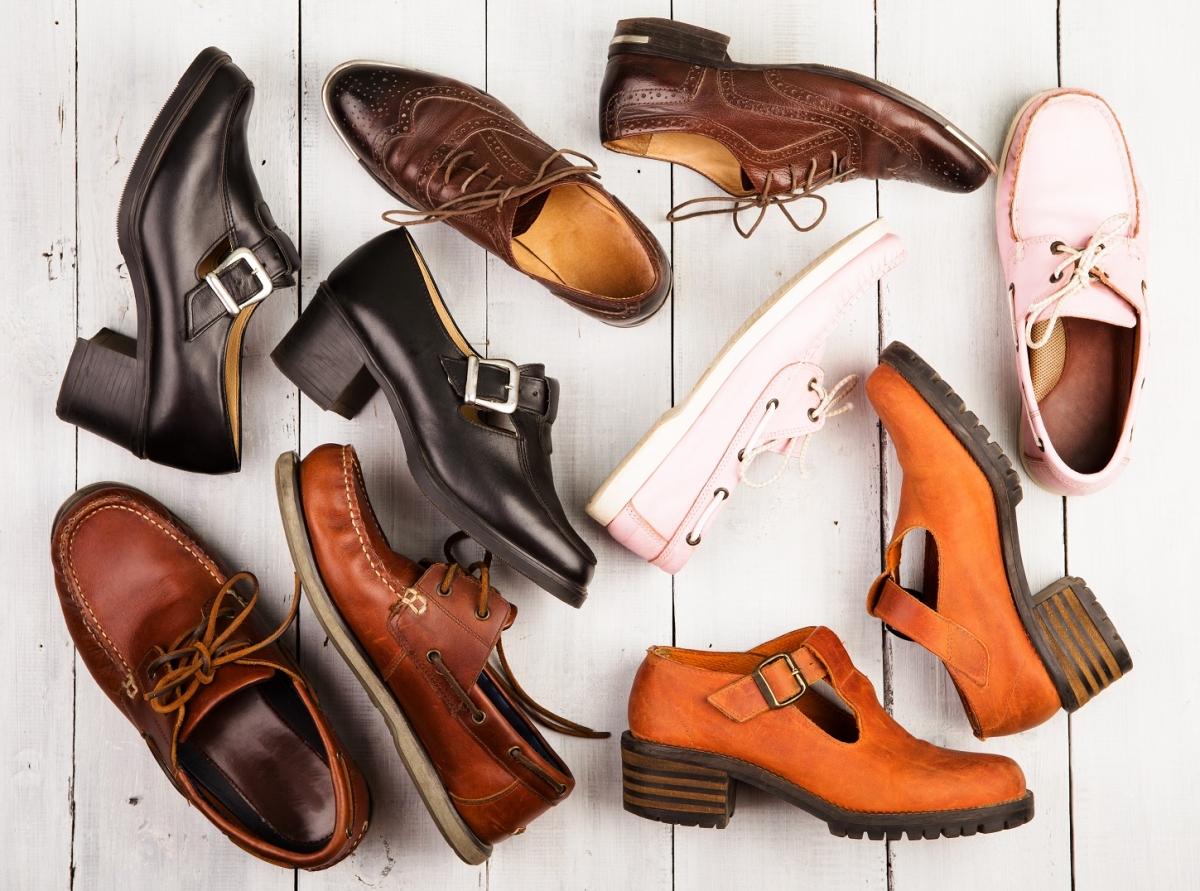 At Podoactiva we can help you return normality to your feet. consult your podoactiva clinic nearest or contact us at 974 231 280 or Traves de info@podoactiva.com.
Related Posts
18/03/2021

Podoactiva has been chosen as one of the 35 benchmark European startups in the field of sports technology and applied innovation...

17/03/2021

We continue to walk alongside Real Valladolid after more than a decade at their side. Alberto Fernández, expansion director of Podoactiva, and...

11/03/2021

Our Podoactiva Vigo Clinic has opened its doors in the city of Pontevedra. It is our first own center that we inaugurated in...
Recommended Podoactiva services